Guest Blog from Sally, Harrogate Mumbler
Did you know you can pay for some childcare tax free?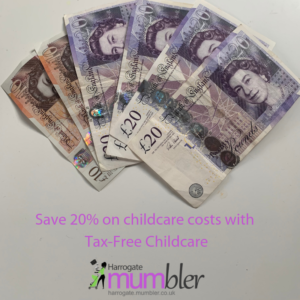 No? Me neither until yesterday, but I've just signed up for the governments "Tax Free Childcare" scheme and already I've saved £12 on a single day school holiday club for my two daughters by using this scheme.
The Tax-Free Childcare scheme works like this: For every 80p you put into your Tax-Free Childcare account, the government tops it up by 20p, you then use the money to pay for childcare – effectively tax free.
So what is the Tax-Free Childcare scheme?
Very basically, the Tax-Free Childcare gives eligible families up to £500 every 3 months (£2,000 a year) for each of your children (under 11 years old) to help with the costs of childcare, for free!
The best bits?
It can be used for school holiday clubs & camps not just regular childcare.
It doesn't have to be a regular amount each month. You can even do it as a one off payment (eg summer holiday camps).
You can get Tax-Free Childcare at the same time as 30 hours free childcare if you're eligible for both.
How does it work?
It takes about 20 minutes to set up your account on the .GOV website. Once it's set up and you've been approved, they set up an on-line account for you and then you pay in however much money you want into your account. The government then tops up your account by 20%. You pay your childcare provider from this account (note; it takes a day for the money to show in your account then up to 5 days for the payment out to the child care provider)
Tax-Free Childcare covers most normal childcare providers (as long as they are with a regulator such as Ofsted, the Early Years Register or the Childcare Register) , such as; before & after school care, pre-schools, nurseries, playgroups, childminders etc. The provider must also be registered with the Tax-Free Childcare scheme so check before you try and pay with the scheme!
When you log in to your Tax-Free Childcare account, you'll be able to see details of all local registered providers. If your setting is on there, you'll be able to send payments directly through your account to them.
It's different from Childcare Vouchers because you don't have to do this through your employer and it works for self employed people too. Naturally there is eligability criteria and it isn't open to everyone so you should check the official guidance here however in brief the eligibility is this…
Eligibility (in brief)
You (and your live-in partner or spouse) must be working at least 16 hours per week (This includes being self-employed/ director of your own company).
You (and your live-in partner or spouse) must earn minimum £131.36 per week and a maximum £100,000 per year.
Your child must be 11 or under and usually live with you. Kids stop being eligible on 1 September after their 11th birthday. Adopted children are eligible, but foster children are not. Rates & maximum ages are different for children with disabilities.
You cannot get Tax-Free Childcare at the same time as claiming Working Tax Credit, Child Tax Credit, Universal Credit or childcare vouchers. Important note: Your Working Tax Credit or Child Tax Credit will stop straight away if you successfully apply for Tax-Free Childcare. Check which scheme is best for you by using this calculator.
Once approved, you'll be able to pay money in to your Tax-Free Childcare account using your debit card, by setting up a standing order, or by making a payment from your bank account.
Only one parent can open the account (though multiple parents can use it) but you'll need to decide which parent should set up the account.
You can check out the full eligibility criteria and apply here: gov.uk/get-tax-free-childcare
How does it work in practical terms?
I used the scheme to pay for a day holiday club for my 2 daughters. The cost should be £30 each so £60 total. Using this scheme it has actually cost me £48, so I have saved £12.
I won't lie, it was slightly faffy to set up the first time round, but now it's up and running it should be much slicker next time round.
Here are the steps you need to follow;
Apply for Tax-Free Childcare on the .gov.uk website here.
Add in details for each eligible child.
HM Gov will text you with instructions of how to log in & find out if you've been accepted.
Once accepted you will be given account details for your child/ren.
Check that your childcare provider is registered & that they will accept TFC as payment. The childcare provider will give you specific instructions of how to book at their setting.
Add sufficient funds to your child's account (eg for my £30 per child bill I did a bank transfer for £24. The account was then topped up by £6 by the state to bring the total to £30).
Don't worry if you overpay- you can withdraw funds (although I didn't try this).
It takes around 24 hours for the funds to be available to withdraw.
Once available you select the childcare provider from the list & pay them directly.
It can take up to 5 days for the childcare provider to receive the money so I'd suggest that you take a screen shot & let them know it's coming.
You need to reconfirm eligability every 3 months.
Note: I'm not a benefits expert so please take professional advice before applying, particularly if you are in receipt of other benefits, thanks Sally.
---
Thanks so much to our guest blogger Sally at Harrogate Mumbler. If you have family or friends in Harrogate be sure to let them know about the Harrogate Mumbler site.