Guest Blog from Caroline – Selby, Tadcaster and Goole (STAG) Mumbler & Katrin – Norwich Mumbler.
This is a topic that is very close to my heart for two reasons:
1) My eldest daughter started school recently (blub).
2) I am a primary school reception class teacher as well as Mumbler owner.
I therefore couldn't let August end without offering some words of advice for any parents who will be waving off their little ones on the first day of school in a couple of weeks. I know exactly how you feel – whether this is your first or last child starting reception, it is an emotional time and a huge milestone!
You're probably gathering together the last bits of uniform needed and mentioning the big day to your mini mumbler frequently in order to prepare them (and yourself). Over the next few weeks, there are a few things you can do to make their transition smooth and also give them the best possible start…
Develop their independence: dressing, putting shoes on, hanging clothes on pegs, eating independently, using the toilet independently, speaking to adults or other children to build their confidence.
Make a point of walking or driving past the school and chat about how you'll get there, where you'll enter etc.
Try on the uniform (including PE kit, coats, shoes etc).
Talk about the teachers by name and remind them of any transition activities / meetings they may have had.
If it's possible, meet up with any children you know who are going to be in their class for a play date (socially distanced!).
Label EVERYTHING! Seriously…everything. Then check it after a month or two to see if it is still labelled.
Prepare yourself for drop off.. Some children cry and I know from experience as a parent and teacher how awful this is but honestly, the best thing you can do is start as you mean to go on. I advise my parents to 'kiss, cuddle and go' – whether their little ones are crying or not. As teachers we have thousands of tricks up our sleeves for calming a crying child but we cannot implement these until parents have gone – 99% of the time children stop crying within minutes of their parent's leaving and adapt far more quickly when they have been used to Mum, Dad or whoever it is leaving straight away. I can't speak for all teachers but I always ensure that I call parents once their child has calmed down to reassure them that they are OK.
My final bullet point gets it's own introduction because I cannot stress the importance of this one enough…
Read! Bedtime stories / anytime stories are hugely beneficial to your child's early vocabulary, imagination, communication and understanding of the written word. In addition to this, reading ANYTHING with your child will further develop these skills. For example: fact books, magazines, newspapers, menus, shopping lists, signs.
You will be absolutely amazed by how your child develops this year – they'll learn to read, count,  gain confidence, use wonderful vocabulary, tell you facts about things that you didn't even know and hopefully, develop a love of learning – that's the aim anyway. Doing all of the above will give them a super start but as the year goes on, it's worth noting that the most successful pupils in school have lots of sleep, have limited 'screen time', are encouraged to be independent and experience play at home (outdoor play, model building, crafts, lego, baking etc).
Finally, I just want to say that your child is in good hands – trust in the teachers (I know it's hard) and make sure you communicate any concerns you have. Your child is beginning their school journey –  this needs to be a partnership between school and parents and any way that you can support the work that is happening in school will benefit your child.
I hope you've found something helpful from my ramblings and wish you and your mini mumblers all the best with the big day and beyond – brace yourselves… your child has never been as tired as they will be for the first term at school. It's a painful seven weeks!
Caroline x
---
Letter from a Former Teacher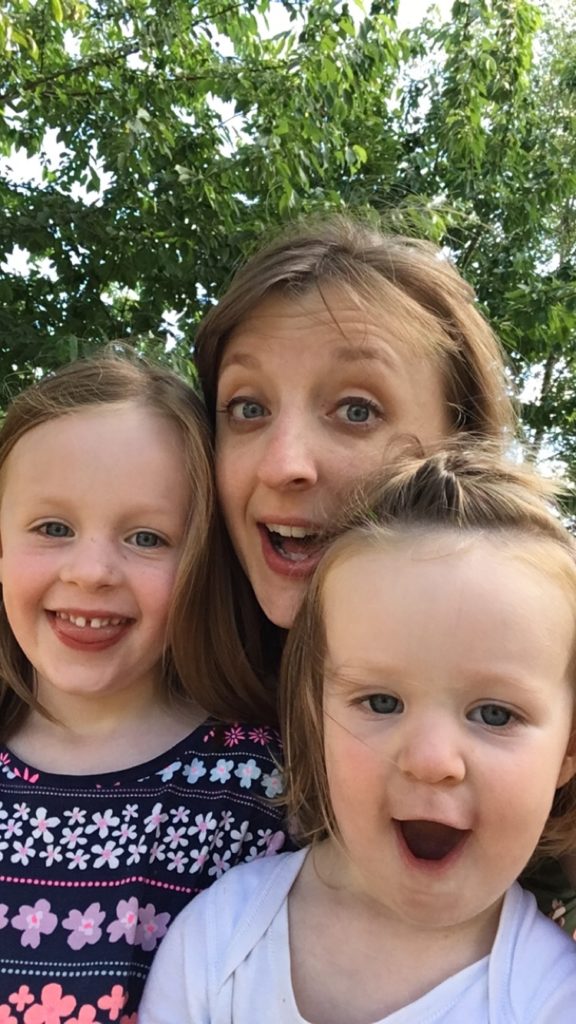 I started as a fresh-faced NQT (Newly Qualified Teacher) in Reception with the very youngest class, the ones that were all Summer borns, and stayed in Reception for 4 years before moving to Years 1-2.
Each year (before I had my own Mini Mumblers) when the children arrived for their first day of school, the parents would be fighting back tears and I would wonder why they were so sad.  "Your children are in wonderful hands," I would think.  I'm not a shouty teacher, I love singing silly songs, telling awful jokes (courtesy of my Dad's repertoire!), getting them outside and active as much as possible, being there for them when they achieve, being there for them when they don't.  I support learning through play, learning through structure, learning in any way that is best for your child.
I always understood if the children were sad being away from their parents, I didn't realise it worked the other way round. So, on the first day I would often be a little put out by the parents reaction, knowing how much fun they would have with me, I just didn't understand it.
I do now.
What I'd like teachers to know…
Don't be hard on the parents.  They've kept their little one alive up until now, doing whatever it takes to keep them healthy, fed and loved.  They've been the 'go-to', the one that fixes things, the one that teaches them, the apples in their little one's eyes.  They're not sad because they're starting school with you, they're sad because it's the end of an era.
For many it's the end of term-time trips, the end of slower paced weekday mornings, the end of impromptu 'let's go have a picnic' days, the end of being the only ones their little folk rely on.
(Also, you will not believe the SHED loads of school admin parents have to keep up with…cut them some slack if they forget to return the library book for the 2nd week running, or the trip money comes in after deadline and in 50ps.  They're doing their best).
What I'd like parents to know…
Don't be hard on the teacher.  This person lives for their job.  They put all of their professional knowledge and personal feelings into doing the best for your child.  The time they spend with your child makes up about 10% of the work they actually do, and the time they spend with your child is the best bit.  They might not fit in changing the reading book one day because of 140,927 other things that have happened, but know they will do it when they can.
Your child will grow in immeasurable ways during their Reception year because of this teacher.  They will learn things you could not teach them, they will see things you will not see and do things they could not do…but they will always come back to you.
What I'd like children to know…
Do things that are hard, this is the best way to learn.
Don't stress the tests, they show a small amount of what you know and don't show the effort you put in – your parents and teachers know what you can do without them.
READ, it will honestly make you smarter in every way possible.
You are in charge of your learning, no one else.
Ask for help when you need it.
Be kind, this is one of the ways you can make your parents the proudest they will be of you.
Oh, and occasionally try and think of one thing that you did at school to tell your parents rather than the standard 'Nothing' reply 😀 They miss you.
GOOD LUCK to all the September starter children (and parents…I'm right with you!)
Katrin (Can you tell I miss teaching a bit??)
---
Thanks so much to our guest bloggers Caroline and Katrin. If you have family or friends in Selby, Tadcaster and Goole or in Norwich, be sure to let them know about the STAG Mumbler and the Norwich Mumbler websites.
There's plenty on Gateshead Mumbler to help keep little ones (and big ones!) busy, check here for more ideas and info for fun days out from tots to teens!
If you'd like to keep up to date when new resources are added, please click here and like the Gateshead Mumbler Facebook page